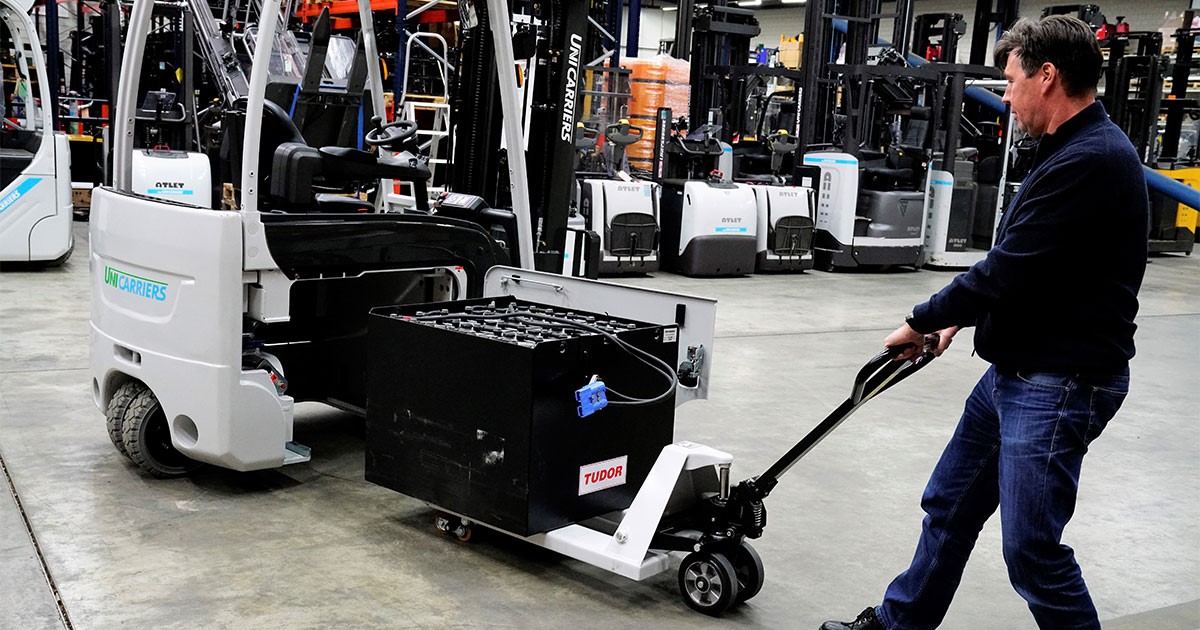 Er zijn verschillende reden om over te stappen naar elektrische trucks: de verbeterde techniek en het ecologisch bewustzijn maken elektrisch rijden steeds meer voor de hand liggend.
Een elektrische truck kan jaren mee, waarbij niet alleen de truck, maar ook het batterijonderhoud veel aandacht vraagt. Van de initiële investering van een elektrische truck, ongeacht of dit een nieuwe of occasion truck betreft, komt ongeveer 30% voor rekening van de batterij. De veiligheid, efficiëntie en de kostenbeheersing hebben baat bij goed batterijonderhoud. Onderstaand geven wij u enkele tips.
Plan de laadtijd van de batterij
Een goede dagplanning houdt rekening met de oplaadtijd van de batterij. Dit verlaagt het aantal ongeplande stops en is tevens veiliger. Indien de chauffeur weet wanneer een batterij aan de lader moet, zal hij of zij rekening houden met het energielevel van de truck en geen overhaaste manoeuvres uitvoeren. Overleg het dagelijkse werkschema met uw truckleverancier, zij kunnen u adviseren over welke batterij, laders en wisselsystemen het best passen bij uw situatie.
Zet geen batterij in, die minder dan 20% is opgeladen
Een batterij die volledig ontladen is kan temperatuurproblemen en storingsmeldingen veroorzaken op de truck, tevens kan de batterij ook beschadigen. Wanneer de batterij bijna leeg is, kunnen de aandrijf- en hydraulische systemen van de truck vertragen, dit heeft een nadelige invloed op de productiviteit. De batterij ontlaadindicator kan in- en afgesteld worden op de batterij en ontlading. Uw leverancier kan u hierbij helpen.
Controleer regelmatig het waterniveau
Gedestilleerd water is essentieel voor de werking van de batterij. In bedrijf wordt een deel van het batterijzuur in water omgezet, dat vervolgens dissocieert in waterstof en zuurstofgas. Het waterniveau daalt en hierdoor kunnen batterijplaten aan de lucht worden blootgesteld, dit kan oxidatie veroorzaken waardoor de batterijen droog en broos worden. Er zijn onderhoudsvriendelijke batterijen welke slechts één maal per 60 oplaadbeurten of ongeveer één maal per 8 weken moeten worden gecontroleerd.
Periodiek gedestilleerd water aan de batterij toevoegen is een must! Desondanks moet er niet te veel water toegevoegd worden! Wanneer de markering van het waterniveau overschreden wordt, kan dit gaan lekken en dit kan de batterij weer beschadigen. Vergeet niet dat water alleen toegevoegd kan worden na het opladen van de batterij, nooit eerder.
Snelle laadcycli
Stilstand verlagen door snel te laden kan aantrekkelijk lijken, maar het betaalt een prijs. Tijdens het snel laden kan de gegenereerde warmte de levensduur van loodzuurbatterijen, vaak toegepast in heftrucks, aanzienlijk beïnvloeden. Snelle oplaadcycli zijn perfect voor urgente situaties wanneer snelle inzetbaarheid van de truck belangrijk is, maar dit zou geen dagelijkse routine moeten zijn. Uw leverancier kan u adviseren over snelle oplaadcycli en over de juiste batterijen.
Witte kristallen
Sulfateren is een van de hoofdoorzaken van vroegtijdige schade aan de batterij. Witte loodsulfaatkristallen vormen zich op de platen, wat kan leiden tot langere oplaadtijden, verlies van stroom en een aanzienlijk kortere levensduur van de batterij. Sulfatering komt vaak door overmatig water gebruik en komt vaak voor in warmere omstandigheden. Controleer de batterij dagelijks op kristallen – mocht u tekenen van sulfatering aantreffen, vraag dan een technicus om advies.
Laadstation
Hoogfrequente laders zijn efficiënter en geven een betere controle over het laden van uw batterij. Laders zijn niet goedkoop en kunnen gemakkelijk beschadigen in een druk magazijn. Een vast ingericht laadstation, waar kabels en stekkers een vaste plek hebben, schept tevens duidelijkheid voor de medewerkers.
Batterijen en het bijbehorende onderhoud zijn een kostenpost, deze tips kunnen u helpen om het beste uit uw investering te halen.
Wilt u meer lezen over de kosten van de intern transport trucks zodat u deze beter kunt beheersen? Klik dan op onderstaande button.