Yes, it's that time again - IMHX will be kicking off at Birmingham's NEC on 13 September, and we'll be one of the hundreds of exhibitors showing off their goods.
This year will be our first appearance at the exhibition, so we've made sure that our stand isn't going to be one to miss. We'll be based at Stand D70 in Hall 9 for the duration of the show, and we've rounded up a few of the top reasons you should drop by.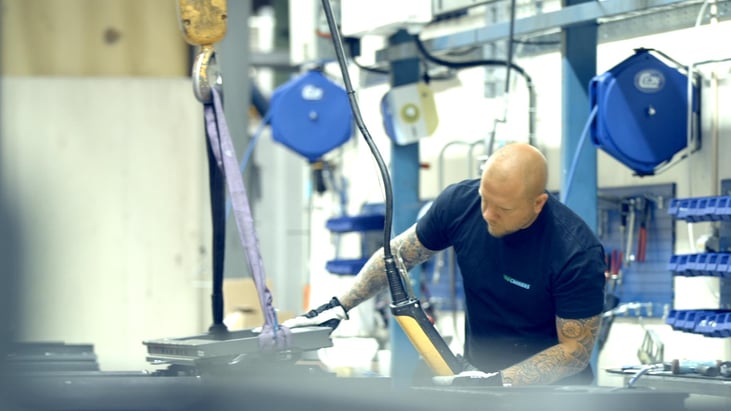 See our battery change system in action
Our very own battery change system (the 'Fast Track PowerPlus' system) replaces a reach truck's batteries in a flash, using a simple toggle control. There's minimal manual handling involved in the entire process, meaning drivers can swap out their batteries as part of a normal day's work.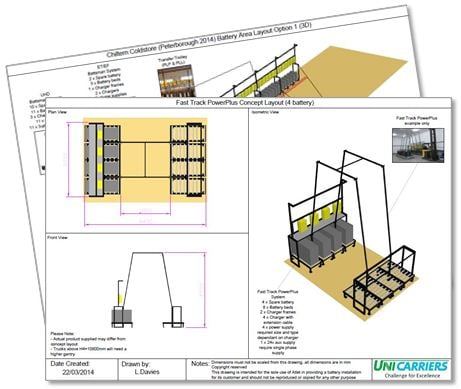 The whole battery change can be completed in under a minute, and we'll be demonstrating it throughout the exhibition.
Check out the new EPL 100 order picker
The EPL 100 is one of our' newest trucks, and we're very proud of it. It's got a lift height of up to 3.4 metres and a snappy top speed of 12kph (7.4mph), and can come in handy in any situation, whether you're using it to pick orders or shift pallets. It doesn't look bad, either.
We paid a lot of attention to ergonomics when developing this truck, so come along to the stand to see how it feels.
Get a demonstration of the UniCarriers Logistics Analyser
We've been developing the Logistics Analyser for a long time, and it's now one of the best ways to try out a new warehouse arrangement before actually putting it into practice.
The software lets you digitally recreate the layout of any warehouse, measuring its efficiency and weak points, so you can see what works best. It's a complex piece of kit, but we'll be able to walk you through it.
See how our Account Management Reporting system for yourself
If you've got time for a slightly longer demonstration, it'd be a good idea to come along to see our Account Management Reporting system. The dashboard-based system can give you a bird's eye view of your operation, providing as broad or as narrow information as you want on how you're using your fleet, how to control costs, or even the status of your next service.
You'll be able to create your own basic report at the stand, and you'll meet some of our team in the process. What could be better?
Get your hands on the VOM
The old saying, "If you can't measure it, you can't manage it," is imprinted on every logistics professional's mind, and it's as true as it ever was. Fortunately, the Vehicle Operation Management system (VOM) lets you do both.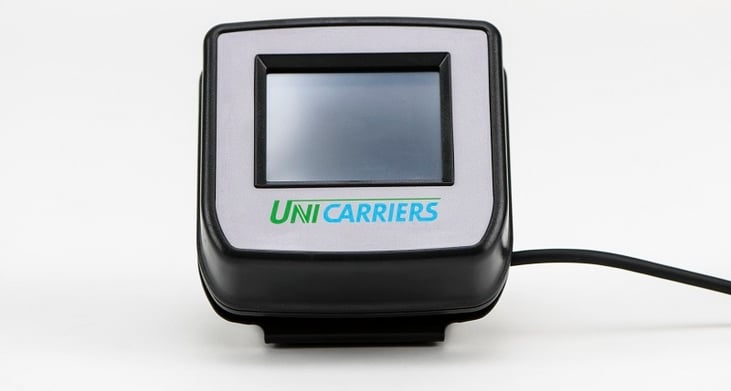 The VOM console mounts on a truck, measuring and recording all kinds of data, from usage intensity to battery drain. All of this information gets fed back to a database, and can be accessed from any online device. It's pretty smart, and we'd love to show you how it works.
Try to win a Fitbit!
Trade exhibitions can be fun, but they can take a toll on your health - the drinks, the fancy dinners, the late nights… After the show is over, it might be a good idea to go on a health kick. What better way to start than by winning a Fitbit? Think of it as your own personal VOM.
We'll be holding a Fitbit prize draw on each day of the exhibition, so come along to the stand if you're feeling lucky.
On top of all this, we're sponsoring the RTITB's International Operator of the Year award, which will be given to the world's best forklift driver - now how's that for a title? You'll be able to watch the heats throughout IMHX, which will decide who gets through to the finals in November.
If any of this has grabbed your interest, then be sure to pay us a visit during IMHX. If you haven't got your ticket yet, you can sign up for a free Priority Pass by clicking the blue button below. We look forward to seeing you soon!