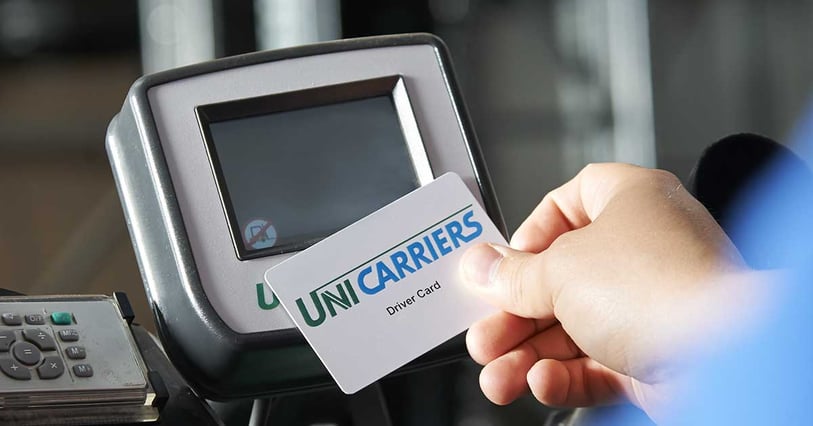 When you've spent money on new equipment, and invested time and even more budget in safety training and education, damage to forklifts can be a major headache that can increase downtime and endanger staff.
But aside from training, maintaining a safe warehouse environment, and choosing ergonomic trucks with good visibility and handling, how can you reduce accidents? Especially those kinds of accidents that never seem to have been caused by anyone.
The answer may be in technology — specifically, in fleet management systems that can allow you to keep an eye on every truck in your fleet, all the time.
One aspect of tools like these, such as our Vehicle and Operator Management (VOM) system, is the RFID system which controls and logs access to the forklift. Before starting to drive, each operator must 'unlock' the forklift by scanning their card or fob on the terminal. When they're finished, they can use the terminal to 'lock' the forklift once again. This type of system does two things:
It restricts access to a certain forklift by ensuring that only authorised drivers can operate it. Each driver's permissions are stored centrally and linked to the card, so there's no danger that someone could 'unlock' and operate a truck that they're not supposed to drive.

Secondly, it creates a unquestionable log of who has been using the forklift. If you notice one afternoon that a truck has been damaged, it's possible to go into your fleet management system and see who has been operating the truck that day. This kind of system often results in much more careful driving from forklift operators.
Terminals like the VOM can also be linked to shock sensors mounted on the truck — any unusual bumps or impacts, and the time they occured, are logged automatically. Again, this reminds drivers of the need to handle their equipment responsibly.
Fleet management solutions like these are obviously good at lots of other things — recording performance data, tracking usage intensity, and providing vital information when it's time for service. However, if you're struggling with damage to equipment and safety issues in your warehouse, a system like this could be a good choice.
If you're interested in finding out more about how the VOM could be applied in your own operation, click here to get in touch. Alternatively, you can get our free safety poster by clicking below — it's a perfect reminder of some essential safety rules that can be displayed around the warehouse and office.